Talk about a taste of the season! Denali Spirits Coffee Whiskey is a single malt whiskey made with Kaladi Brother's Ethiopian heirloom coffee and natural vanilla
The first release is about 430 bottles and will be available to purchase at La Bodega starting Wednesday, December 19th.
If you're lucky enough to get your hands on this cure for the winter blues, might we suggest some drink recipes courtesy of our friends at Sawbuck that all incorporate the liqueur?  You'll find these drinks and more at the launch event Tuesday. See you there!
1. Chi – Chi Rodriguez
2oz. Denali Coffee Whiskey
.5oz. Cointreau
.5oz. Lemon Juice
.5oz. Ancho Reyes
5 – Dashes Mole Bitters
Garnish with Lemon Swath
2. Santeria's Little Helper
1oz. Denali Coffe Whiskey
1oz. Old Grandad Bonded Bourbon
.5oz. All – Spice Dram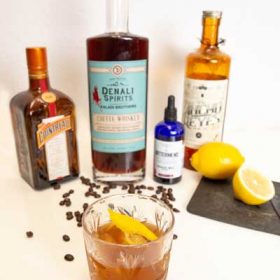 3. Hipsta Barista
1.5oz. Denali Coffee Whisky
.75oz. Aperol
.5oz. Carpano Antica Vermouth
2 – Dashes of Hopped Grapefruit Bitters
Garnish with Lemon Swath